About the Chairman
D.S.V. GOPI KRISHNA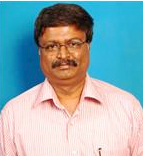 CHAIRMAN The founder and chairman D.S.V. Gopi Krishna was born on 19th September, 1961, to Bhagya Lakshmi and Bharata Nidhi. After the successful completion of the Chartered Accountancy course(ICAI- New Delhi)in the year 1986, he worked in a private sector company for a while and later worked as Finance & Accounts Officer in Coal India Ltd . In 1989 he established his CA firm in the city of Visakhapatnam and in 2004 joined as a partner in M/s Jawahar and Associates Chartered Accountants ,a leading Auditing firm based in Hyderabad He is looking after their assignments in Visakhapatnam.
The chairman is a visionary and is always concerned for the poor and the downtrodden .The increasing number of sick industries in the country worries him a lot. He has several solutions to these problems. He feels that by empowering the youth, poverty can be minimized to a great extent His plans are to uplift at least 5000 people through empowerment. In pursuance of this objective he has floated the Bharata Nidhi Foundation to empower the under skilled students and to provide old age home to the poor people who have crossed 60 years.He wants to revive sick industries by offering free professional services to the management of sick units.
Mr.Gopi Krishna, through this foundation, wishes to develop human resources by providing good health and uplifting the poor. He seeks your whole hearted cooperation and kind support in strengthening this foundation. He asserts that a high level of transparency in the use of funds in implementing these programs will be maintained. Every rupee obtained will be spent on achieving the objectives of the foundation. To achieve these goals at a faster pace, the foundation is willing to work with like- minded people.
The Chairman is backed by a team of able trustees to carry out his noble mission. All the trustees are service minded and some of them are already associated with an International spiritual organization, The Art of Living Foundation.
Bharata Nidhi Foundation
ABOUT THE FOUNDATION: BNF is a public charitable trust registered in 2008 under the Registration Act. Mr. D.S.V. Gopi Krishna, a practising chartered accountant, is the Founder and Chairman of this trust along with the following persons as trustees of the foundation:
D.Kavita
D.Aditya
T. Radhika Mohan
B.Chayadevi
K.Prabhakar
J. Prakash reddy
B. Murali

ADDRESS:
Bharata Nidhi Foundation, FF1, AVR Enclave, TSN Colony,
Visakhapatnam-16.
Andhra Pradesh,
India.
D.S.V.Gopi Krishna BSc. LL.M (Corporate Law). FCA.,
Chairman
Email id : dsvgopikrishna@yahoo.co.in
About other Trustees
Mrs Kavita wife of the Chairman is a senior teacher and volunteer working for The Art of Living . She has 20 years' teaching experience in English at the Degree level. Presently she is training the students of the Bharata Nidhi foundation in English and soft skills.
Mrs Radhika is a post graduate in English and is also a senior teacher & volunteer working for the Art of Living.
Miss Chaya Devi , a post graduate in English, working for a multi national company renders valuable advice from time to time to the foundation.
Mr Aditya MS (Electrical and Electronic Engineering from Missouri University, USA), presently Design Engineer at Faptech Diodes Ink (USA).
Mr.Prabhakar, Prakash Reddy & Murali are tax consultants and look after the daily operations of the foundation.